Who's the biggest Idiot Box addict?
So it's official. We still love to watch TV and will continue to do so in spite of the widespread consumption of smartphones, tablets and other tech gadgets. Reports and analysis from different audience measurement sources substantiate that the love for TV still persists.
Last year, the average person around the world spent around 3 hours a day in front of the television screen based on a report released last Monday.
Eurodata TV Worldwide said that television viewing was still going strong despite more and more people turning toward online platforms like Amazon, Hulu, Netflix and iflix. This means while the fascination for different digital avenues has been growing among various age groups, tele-viewing maintains its significance in our daily lives.
Question is who are the biggest TV addicts around the world?
None other than Americans and Canadians – who, according to the report, spend approximately 4 hours and 3 minutes watching television on average daily basis.
European viewers came in second with 3 hours and 49 minutes a day in 2017, a little ahead of Russia and Brazil – the data collected from as many as 95 countries showed.
Eurodata TV's Vice President, however, said that tele-viewing in North America and Asia slightly fell during the last year while it is growing in South America and still maintaining high levels in Europe.
In Pakistan, a person spends almost 2 hours (119 minutes) watching television which means an average Pakistani spends 12% of the time she/he is awake in front of the tube.
Interestingly, if we take the global market into consideration, tele-viewing of Asians is less than those of their other major counterparts across the world.
However, good news is; the idiot box isn't dead after all!
Viewing habits are changing
On the other hand, the report also found that the viewing habits were also changing.
The replay services, which are prevalently available with the cable operators these days for viewers, on average added an additional 8% to the audiences in the countries that they were measured. It was found that millennials and young adults were spending more time on their digital devices, mostly to catch up with their favorite programs that way.
Eurodata TV also revealed that most young people who spent time watching on the internet or on replay services were logging on for TV shows that were targeted particularly at them. These comprised youth-based dramas and reality shows whose audiences were in many cases twice as large on the internet as they were for broadcast.
The report also told that the US and Britain continue to be world's largest creators of TV shows and formats before France, Germany and Turkey – whose family-oriented soaps have been huge hits especially in the Middle East and South America. This is evident from the fact that in Pakistan, there has been a deluge of Turkish dramas viewed with great interest by all and sundry. The translation dubbings don't seem to bother anymore if the content is strong and appealing.
Trends in Pakistan
Let's take a look at some of the viewing trends in Pakistan with regard to various metrics such as gender wise breakdown, rural vs urban breakdown, genre preferences, etc.
Gender-wise Breakdown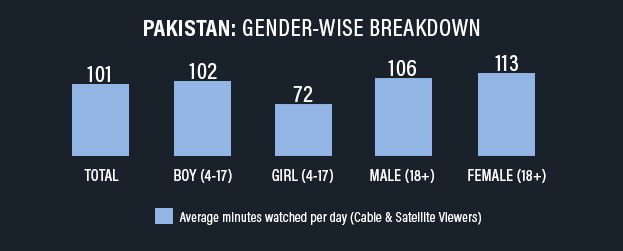 Rural-urban Breakdown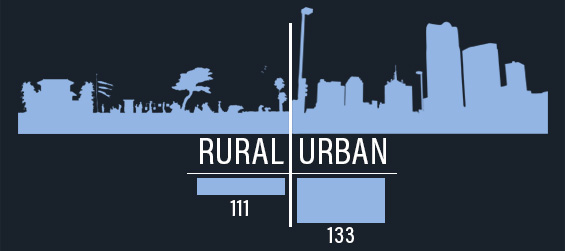 The statistics above show that on average, an urban TV viewer watches 133 minutes per day. Also, per day tele viewing in the metropolitan cities is more as compared to what it is in the rural areas.
Genre-wise Breakdown

It is rather interesting to see what the Pakistani audiences spend time watching. As evident from the statistics above, 64% of the Pakistani TV viewers watch Entertainment channels while 23% watch news channels and 13% of the Pakistani audiences watch other channels that may include categories like Sports, Cooking, Islamic, Travel, etc.
It is also apparent that adult males watch news channels more than their counterparts while adult females watch entertainment channels significantly more than their counterparts.
You just can't kill the idiot box
Paul Youngbluth of the TAPE Consultancy (A global content insight provider) told MIPTV delegates that there was a lot of "fake news" about the death of TV (read traditional TV) and insisted that "consumption is not decreasing".
Be it Pakistan or for that matter any other country in the world, as long as the content producers churn out strong and engaging content – there is no stopping us from grabbing a can of soda and popcorn and sitting in front of our beloved telly!
---
Related Articles
ISLAMABAD – The Election Commission of Pakistan on Tuesday rejected the disqualification reference filed by Pakistan Tehreek-e-Insaf Chairman Imran Khan against Ayesha Gulalai for defying the
The issues and problems between Pakistan and Afghanistan cannot be simply described as bilateral interaction. This relationship has become so
RIYADH (AFP) – Saudi Arabia kicks off an investment summit Tuesday despite a wave of cancellations from policymakers and business